Sixteen brand new contestants are battling it out this year...on a plane! Their first location is none other than their hometown. A couple people manage to slip onto the first team, and another couple of people are sent to boot someone, and someone goes home off the plane.
Chris introduces the brand new cast via plane. The first person introduced is Bridgette, quickly followed by Geoff. Next introduced is Sadie, followed close by Amy. Eva is the next one to jump off the plane, with Mike following. Alejandro is the next one, with Bridgette being impressed. But, she does realize that Alejandro took advantage of her in Total Drama World Tour, and she states in her mind that she'll just play along if it happens again. Brick and Anne Maria are next introduced off the plane. Chris then states Staci is next, but Lightning and Harold show up instead. Trent and Zoey are the next people to jump out of the plane, and eventually Staci, Izzy, and Beth jump out of the plane.
After everyone is finally introduced, Chris announces the first challenge of the season. But first, he introduces Dave, the first person to cameo from the last two seasons. The challenge is to find passports and bring them to Dave. Chris officially starts the challenge with the airhorn going off. People then start to partner up, hoping to be on the same team together.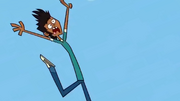 After a lot of searching, the three teams are formed. Mike and Harold first switch teams, and later Geoff and Sadie do the same. The Underdog Unicorns are sent to elimination, and the six members of the team are worried. Beth and Mike end up in the Bottom 2, and it is revealed that Mike is out, and he is eliminated by the Drop of Shame.
Elimination Ceremony
Edit
Barf Bag Ceremony 1:
Underdog Unicorns
Voted
Against
Voter

Mike (4 votes)


Anne Maria, Izzy, Lightning, & Staci

Beth (1 vote)

Mike

Izzy (1 vote)

Beth
VOTED OUT:

Mike
Still in the Running
Edit
Underdog Unicorns

Anne Maria

Beth

Harold

Izzy

Lightning

Staci
Destroying Dragons

Amy

Brick

Bridgette

Sadie

Trent
Outstanding Olympians

Alejandro

Eva

Geoff

Mike

Zoey