Finn
TBA

Gender
Male
Hair color
Blonde
Eye color
Black
Eliminated
TRDS7: TBA
Place
TRDS7: TBA
Friends
Lacey,Teresa,Tabby
Relationship
Teresa
Enemies
TBA
Voiced by
Drake Bell
Roleplayer
Finnmcmissilecar
Finn Mach Wheeler labeled "The Video Game Lover" is the male contestant who's going to compete in Season 7 of the RP
Personality
Edit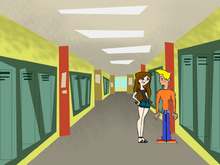 He is the famous gamer of the year he dates all the ladies for the top score and his fame and fortune would badly gets to beat all players in the video games and bosses his crush is Teresa he has his favorite game called Mega Man he fights Quickman.
Total Drama Roleplay Season 7
Edit
Appearances
Edit
Ad blocker interference detected!
Wikia is a free-to-use site that makes money from advertising. We have a modified experience for viewers using ad blockers

Wikia is not accessible if you've made further modifications. Remove the custom ad blocker rule(s) and the page will load as expected.